friday
thru 4/1: crumbs from the table of joy: keen company present the first new york revival of crumbs from the table of joy by two-time pulitzer prize winner lynn nottage and directed by colette robert at theater five (theatre row). use code 'trk10t' for $17.50 tickets (reg. $62.50-93.50. limit 10 per performance). >>
thru sun: singin' in the rain: as part of its musical matinees series, the museum of the moving image (astoria) screens singin' in the rain (1952), starring gene kelly, debbie reynolds, and donald o'connor. following saturday's screening, critic and author charles bramesco will introduce the film and sign copies of his new book, colors of film: the story of cinema in 50 palettes, in the museum shop. $15 general, $11 seniors/students ($26 for the book). >>
thru ?: new york now: home – a new photography triennial: the inaugural edition of the museum of the city of new york's new contemporary photography triennial kicks off museum's centennial year programming with lens-based work from 33 contemporary artists, including xyza cruz bacani, naima green, alan michelson, irina rozovsky, and jamel shabazz, that explore the concept of 'home.' $20 general, $14 seniors/students. >>
fri 7pm: vagina obscura: an anatomical voyage: science journalist and author rachel e. gross celebrates the paperback release of vagina obscura, a 'myth-busting voyage into the female body,' with a talk, audience q+a, and book signing at p+t knitwear bookstore (les). multimedia artist sophia wallace (yescliteracy.com) joins. free admission, $22.76 includes a copy of the book. >>
fri 7pm (monthly): tale storytelling show: harmon leon (this american life, the new yorker) hosts an evening of performances by some of the city's best storytellers, including gaster almonte, kambri crews, jameer pond, and molly brenner. the red room at kgb bar (east village), free admission if you mention the skint at the door (reg. $10), plus a two-drink minimum. >>
fri 7pm (monthly): vocabaret: 'snark tank' edition: everything's coming up proses at this monthly variety show for language lovers, where five of the the city's best wordsmiths present slideshows, games, and other raucous entertainment inspired by a theme. tonight's edition explores the history of sarcasm and snark attacks. hosted by sam corbin, tim donnelly, jerzy gwiazdowski, ally spier, and nikolai vanyo. caveat (les), $10 with promo code 'caveatorb' (reg $15 adv, $20 door). >>
fri 8pm (monthly): runnin' late comedy: clock in to cab washington and marcely's comedy show spotlighting black and brown performers. featuring sureni weerasekera (hbo), ally leftridge (special needs podcast), glory mora (roast battle), and samantha santos. friends and lovers (crown heights), $10. >>
fri 8pm: red baraat festival of colors: red baraat, a brooklyn-based band melding bhangra with hip-hop, jazz, and punk, brings its 11th annual festival of colors tour to brooklyn bowl (williamsburg). $20. >>
fri 8:30pm (weekly): bitches brew comedy show: see what all the brew-ha-ha is about at this women-produced and hosted comedy show, returning to the back room at halyards (gowanus) with stand-up by shalewa sharpe (hbo), peng dang (comedy cellar), juliana rodrigues (cbc), and allison o'conor (big night comedy). free admission (a tip jar will be passed around at the end of the show). >>
fri 8:30pm (weekly): live from outer space comedy show: john f. o'donnell, myka fox, and max bruno host an evening of out-of-this-world stand-up at the cobra club. tonight: alison stevenson (viceland), derek humphrey (mtv), kevin mccaffrey (letterman), lizzie martinez (savage comedy), and jim tews (last comic standing). the cobra club (bushwick), donation-based. >>
sponsored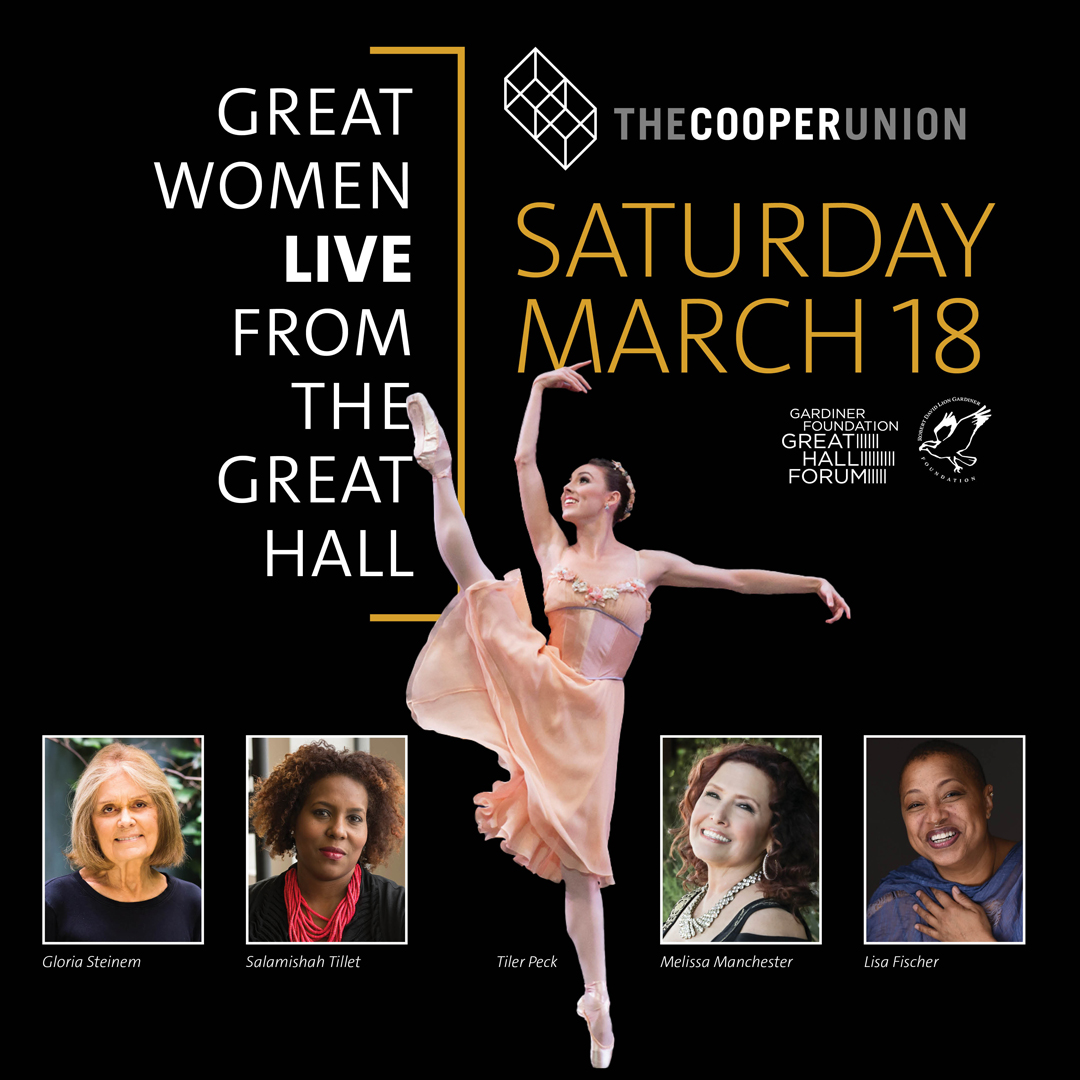 Two must-see events in the same day.
Headliners from across the performing arts—dance, music, and theatre—are part of an evening to celebrate Women's History Month and The Cooper Union's unique role in advancing women's rights. Featured performers include:
TILER PECK | MELISSA MANCHESTER | MELISSA ERRICO | LISA FISCHER | DORMESHIA SUMBRY-EDWARDS | URBAN BUSH WOMEN | ALICE WETTERLUND
Song, Dance, and Spoken Word: Great Women Live from the Great Hall
The Cooper Union's Great Hall
Saturday, March 18, 8:30pm-9pm
Purchase ticket here
And join us earlier in the day for a free public program…
GLORIA STEINEM and Pulitzer Prize–winning journalist SALAMISHAH TILLET will be in conversation about the state of women's rights. The event is part of The Gardiner Foundation Great Hall Forum series and a day of Cooper Union programming, including an exhibition on view in the Foundation Building's colonnade windows, dedicated to lifting up and celebrating Great Women Live from the Great Hall. The exhibition runs March 6 through March 19, 2023.
Gloria Steinem and Salamishah Tillet in Conversation
The Cooper Union's Great Hall
Saturday, March 18, 3pm-4:30pm
FREE ADMISSION, but registration is required.
Register here
saturday
sat 10am-4pm: making brooklyn bloom: brooklyn botanic garden's 41st annual conference on urban gardening and related topics will focus on the theme 'tapping the power of trees: how the urban forest will save cities' with a day of talks, workshops, tours, information, and networking. free admission. >>
sat 1pm (+ 3/21, 4/1, 4/15): kings theatre historic tours: step back in time on a tour of the kings theatre, which dates back to 1929 and features an opulent grand lobby, speakeasy lounges, a robert morton wonder organ, a 3,055-seat auditorium, and more. kings theatre (flatbush), $25. >>
sat 1pm: what we see: women + nonbinary perspectives through the lens: women photograph, a global organization dedicated to elevating the voices of women and nonbinary visual journalists, celebrates its new publication, what we see: women + nonbinary perspectives through the lens, at the international center of photography (les). sara ickow, exhibitions + special projects for women photograph and senior manager of exhibitions and collections at icp, will lead a conversation with women photograph founder daniella zalcman and photographers nina berman and kholood eid. free with museum admission ($18 general, $14 students, $12 students). >>
sat 7pm: citizenship live!: a comedy show 'inspired by nightmare that is the u.s. customs and immigration service,' citizenship live! challenges a team of immigrants and a team of u.s. citizens to answer trivia questions about america and the world. hosted by felipe torres medina and taylor kay phillips. $10 with promo code 'lincoln' (reg. $15). >>
sat 7pm (monthly): a league of their own drink-along: a drinking game nyc casts actors in a live staged reading of a beloved movie and turns the whole thing into a drinking game. join them tonight as they stumble through penny marshall's a league of their own (1992). the bell house (gowanus), $20 adv, $25 day-of. >>
sat 7:30pm: carnegie hall citywide: lakecia benjamin virtuosic saxophonist and composer lakecia benjamin plays an album release show at harlem stage gatehouse. free admission. >>
sat 7:30pm: peoples' symphony concerts classical music series: the 123rd season of peoples' symphony concerts continues with juilliard string quartet performing a program of works by beethoven, widmann, and ravel at the historic washington irving high school auditorium (gramercy). $19-21 general, $10 students + essential workers. >>
sponsored: sat 8pm: 'best radio host in america' ira glass of this american life: seven things i've learned: join one of the godfathers of podcasting, ira glass of this american life, as he shares lessons from his life and career in storytelling at kupferberg center for the arts (flushing). using audio clips, music and video, ira glass takes us into his creative process: what inspires him to create? what drives his passion? how have failures and successes informed his decisions? save 20%! unlock this offer by entering passcode 'skint' when selecting tickets. >>
sat 8pm: schemecon: milly tamarez (betches sup) and chris burns (@fatcarriebradshaw) present a night of scheme celebration, along with their 'fellow boss babes and platinum level icons (and comedians)' at littlefield (gowanus). $12 adv, $15 door. >>
sat 9pm: you are not alone: an uplifting show about depression: improvisers and artists that battle depression and mental illness in their day-to-day lives create scenes inspired by their personal experiences and show how laughter can be the best medicine. hosted by aaron gold and michael serpe. magnet theater (chelsea), $10. >>
sat 9pm: hot gossip comedy show: jonathan van halem and michael abber host an evening of music and stand-up, featuring chanel ali (comedy central), napoleon emill (comedy central), andrew durso (patriot act), jared bronen, and more at pine box rock shop (bushwick). free. >>
sat 9:30pm: ian lockwood's girlfriend pageant: through a series of rounds including talent, gown + age, verisimilitude, and emotional support, 20 comedians and improvisers will compete to be performer ian lockwood's girlfriend. and with 1,000 hot dogs for a prize, you can be sure that things will get a bit nuts. union hall (park slope), $10 adv, $15 day-of. >>
sat 10pm (monthly): music video time machine presents: 'four decade dancefloor blowout': dance and sing along to old school music videos from the 70s, 80s, 90s, and 00s at tonight's edition of music video time machine's monthly bash. the front bar of the bell house (gowanus), free admission. >>
sunday
sun 2am: spring forward! daylight savings time starts today. >>
sun (various times): academy awards watch parties: here's our roundup of six fun spots to watch the ceremony unfold:
► caveat (les): live performances during commercial breaks, a play-along game, voting ballots, and more with host jenny gorelick. $15-20 admission. >>
► littlefield (gowanus): a free glass of prosecco, free popcorn, food available for purchase. free admission (rsvp). >>
► parklife (gowanus): bingo and commentary hosted by carly ann filbin. food/drink purchase required. free admission. >>
► q.e.d. (astoria): popcorn, drink specials, trivia, and voting ballots. $10-15 admission. >>
► syndicated (bushwick): voting ballots, themed drink specials, food available for purchase. free admission. >>
► the roxy cinema (tribeca): fierce looks and shady commentary with hosts ruby fox and sunami muse. free (rsvp). >>
sun 10am-5pm: nyc craft pop-up at grand bazaar nyc: today's edition of grand bazaar nyc, nyc's oldest and largest curated market, will include a pop-up with 80 independent local artists and craft-makers selling fashion, accessories, home decor, toys, and more. 100 w 77th st at columbus ave ( indoors and outdoors), free admission. >>
sun 11am-3pm: urbanglass spring open house: see glassblowing and neon tube bending demos, make some art, and more at urbanglass's 17,000 sq. ft. fort greene studio space. activities are free-$75. >>
sun 6pm (monthly): public victories: from running the dishwasher to running a marathon, five performers and one audience member will share true stories about personal triumphs great and small at the public victories storytelling show, hosted by laura goehrke. young ethel's (park slope), free (donations welcome). >>
monday
mon 6:30pm: ethics in public art: a panel of artists and activists, including laurie anderson, firelei báez, walter hood, and justin garrett moore, debate the intersections between public art and issues of equity, representation, social justice, and beyond. nypl's stavros niarchos foundation library (midtown), free admission. >>
mon 7:30pm (monthly thru may): music mondays concert series: the 20-year anniversary edition of 'music mondays' brings leading classical and contemporary chamber music ensembles to advent lutheran church (uws), continuing tonight with the pacifica quartet and the new york philharmonic's principal clarinetist, anthony macgill, who'll perform a program including selections by prokofiev, brahms, and james lee iii. free admission. >>
mon 7:30pm: (weekly): u host? lgbtq+ comedy: host griffin leeds presents a lineup of lgbtq+ comedians at the rosemont (williamsburg), including calvin cato (sirius xm), ali clayton (vice), tyler mead, yoshiko watson, and ian lockwood. bonus: $5 happy hour. free admission (donations welcome). >>
sponsored: mon 8pm: $9 tickets to carnegie hall: mcp's 2023 opening season concert: manhattan concert productions welcomes audiences to its first concert of the 2023 season: illuminare! join james rodde, the masterwork festival chorus, new york city chamber orchestra and soloists in an exhilarating performance of elaine hagenberg's illuminare at carnegie hall. use promo code 'tsk39816' for $9 tickets (up to a $110 value!). facility or service fee may be applied. >>
mon 8pm (monthly): franklin park reading series: the crown heights bar and beer garden celebrates its 14th anniversary with readings by authors jac jemc (empty theatre), jai chakrabarti (a small sacrifice for an enormous happiness), jamila minnicks (moonrise over new jessup), and daniel torday (the 12th commandment). books will be available for purchase. free admission. >>
mon 8pm (weekly): butterboy comedy: the comedy show helmed by jo firestone and maeve higgins with dj donwill returns with stand-up by drew michael (hbo), dina hashem (roast battle), abbi crutchfield (trutv), chris duffy (how to be a better human), and wally baram (what we do in the shadows). littlefield (gowanus), $10 adv, $12 day-of. >>
ongoing
our roundup of 30+ ongoing events and attractions: art exhibitions, film fests, new york botanical garden's orchid show, and more. >>
stay safe and healthy
– the skint