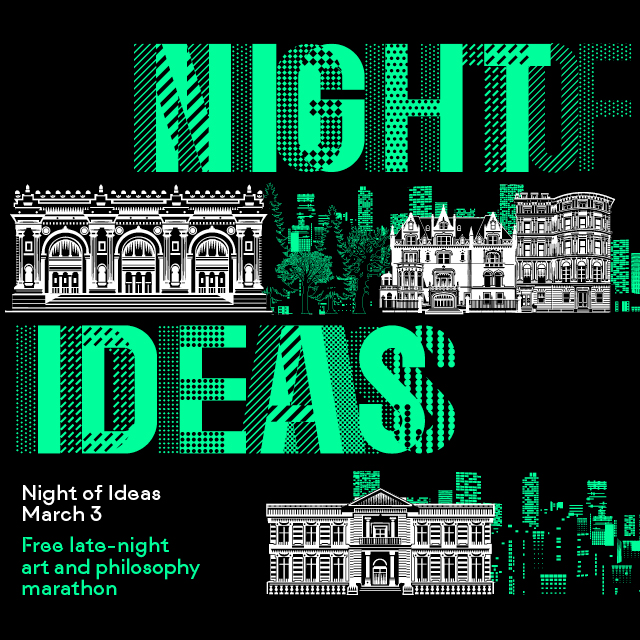 Experience Night of Ideas a free nocturnal marathon of intellectual debates, performance, talks, and live readings on March 3!
Four neighboring Upper East Side institutions open their doors for eclectic and lively programming exploring the great challenges of our time through the central question, How Much More? Explore Afrofuturism at The Metropolitan Museum of Art, women's rights at Villa Albertine's headquarters, environmental challenges and land rights at The Institute of Fine Arts, NYU, and technology and social media in the information age at the Ukrainian Institute of America.
Night of Ideas
Friday, March 3
6PM–Midnight
Register
Free/Pay-what-you-wish
Program highlights
At Villa Albertine headquarters, immerse in a collective live reading of 2022 Nobel winner Annie Ernaux's Happening, a powerful account of the author's illegal abortion in 1963 France. End the evening with a jazz performance and midnight toast.
At The Met, attend a gallery walkthrough of the Afrofuturist Period Room, take part in Drop-in Drawing, and enjoy live music, drinks, and light fare.
At the Ukrainian Institute of America, listen to talks on media, new technology, and innovation led by French author and media thought-leader Bruno Patino, cyberfeminist Mindy Seu, filmmaker Cédric Ido, media theorist McKenzie Wark, and more. Detox room with guided yoga and live music.
At The Institute of Fine Arts, NYU learn about the untold history of Manhattan as an indigenous land with co-founders of the Lenape Center, Joe Baker and Hadrien Coumans, followed by a performance of Three Annunciations, Pascal Rambert's play on environmental catastrophe, by Princeton University students.
sponsored post