misc.
10 old-fashioned candy stores in nyc: get your sweet treats at these shoppes, rounded up by untapped new york. >>
where to find manhattan's passageways named after theatre stars: find yourself walking on a street dedicated to leonard bernstein, humphrey bogart, katherine hepburn, jerry orbach, paul robeson, cecily tyson, and others whose work has graced the new york stage. >>
tuesday
thru 3/25: puppetopia: here arts center's dream music festival of new puppet theatre returns with new works by seven artists. here (south village), $25 (10 tickets for each performance will be made available for $10 each). >>
tues + weds (10am-6pm): kipling sample sale: save on backpacks, totes, handbags, luggage, wallets, and more. clothingline (garment district), free admission. >>
tues 6pm: your table is ready: tales of a new york city maître d': get the inside scoop on the nyc restaurant industry as career maître d' and author michael cecchi-azzolina discusses his new book, your table is ready, with author andrew friedman (chefs, drugs, and rock + roll). brooklyn heights library, free admission (rsvp required. signed books will be available for purcahse). >>
tues 7pm: the art of the straight line: my tai chi by lou reed: performance artist laurie anderson launches a new book about her famed late husband's experience with the art of tai chi, in a conversation with the book's editors: martial arts instructor, performer, and researcher stephan berwick; artist bob currie; and producer scott richman. the rare book room at strand bookstore (union square), $10 admission. >>
tues 7pm: hi, nice people!: hunter gardner hosts this feel-good variety show about adult problems ('like a pg-13 version of mr. rogers' neighborhood'), with a different theme each month. tonight's 'get your sh*t together' theme features guests andy junk (adult swim), courtney maginnis (comedy central), virginia dickens (reductress), katie hartman (netflix), and danny pearlstein (policy + communications director at the riders alliance). caveat (les), $10 with promo code '4nicetimes' (reg. $15 adv, $20 door). >>
tues 8:30pm (weekly): i made you a playlist: stand-up meets after-party at this weekly comedy show and dance party, hosted by kelly bachman. tonight's show features talib babb, diana hong, henry sir, sabeem sadiq, frank deruggiero, and paris campbell. the three diamond door (bushwick), free admission. >>
tues 8pm: and the oscar goes to…: 30 comedians put their own personal spin on acceptance speeches at nikki palumbo and ilana michelle rubin's academy awards spoof. littlefield (gowanus), $12 adv, $15 day of. >>
tues 8:30pm (weekly): just come! comedy show: pamela ross, nolawee mengist, colleen genevieve, and kendall farrell bring the laughs back to east williamsburg with standup by rojo perez (hbo), brian park (feeling asian), talib babb (the new yorker), joey dardano (tiktok), and allison o'connor.. the graham (east williamsburg), free ($10 suggested donation). >>
tues 9pm (monthly): sweet comedy show: sweet everythin g: seth herzog's long-running live comedy show returns with performances from guests roy wood, jr. (the daily show), heidi gardner (snl), rosebud baker (snl), joe pera (adult swim), and drew michael (hbo). chelsea music hall, $15 (save $5 with promo code 'winner'). >>
tues 9:30pm: pencils down!: tv-show scribes break out of the writers' room and test out their newest stand-up material onstage at the pencils down! show. hosted by matt goldich (seth meyers) and matt koff (the daily show), and featuring emmy blotnick (colbert), alison leiby (the marvelous mrs. maisel), jeff wright (seth meyers), and roy wood, jr. (the daily show). caveat (les), $15. >>
sponsored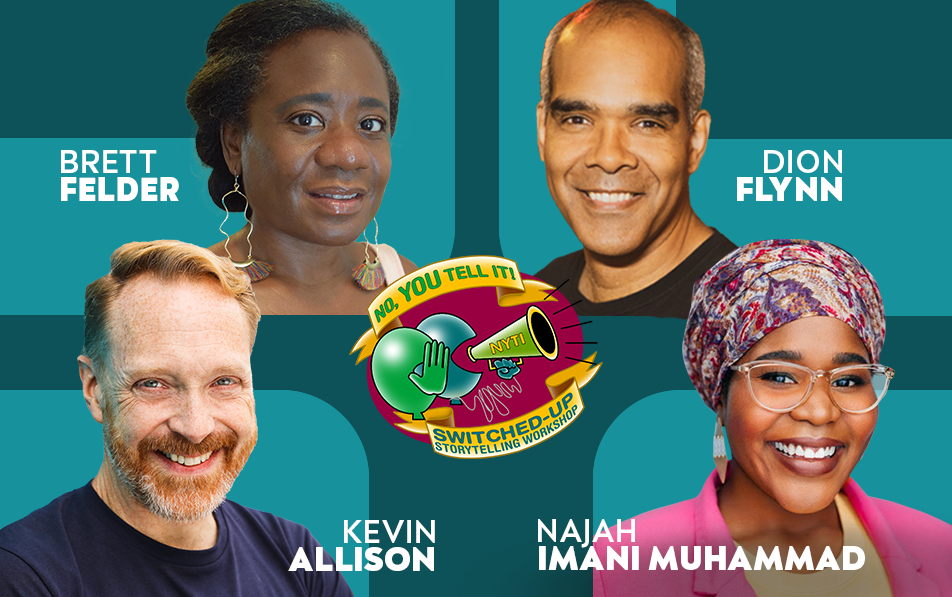 NO, YOU TELL IT! COLLEGE TRY
Symphony Space
Mar 16 7PM
For each No, YOU Tell It! show, four storytellers work together with the creative team to develop true tales on the page. Then they swap stories to embody their partner's culture, identity, and life experience on stage. Audiences bear witness as story partners share in each other's emotions directly instead of empathizing from a distance.
The night features entertainers and educators Kevin Allison (RISK!), Brett Felder (College Board), Dion Flynn (The Tonight Show Starring Jimmy Fallon), and Najah Imani Muhammad (Leaders by Choice), trading true tales inspired by the theme "College Try."
SKINT READERS CAN GET A $12 TICKET* USING CODE: TELL
*service charge applies
wednesday
weds thru 3/31: four film fests/series:
► weds thru sun: first look at museum of the moving image (astoria). $15-20 general, $11-20 students/seniors. >>
► weds thru 3/23: viruses on film at bam (fort greene). $16. >>
► thurs thru 3/26: carte blanche: guillermo del toro at museum of modern art (midtown). $12 general, $10 seniors, $8 students. >>
► thurs thru 3/31: socially relevant film festival at cinema village (union square), walter reade theater (lincoln center), columbia maison française, jcc harlem, and online. $12+. >>
weds thru 4/2: estrogenius festival: the annual estrogenius festival celebrates femme, non-binary, non-conforming, and trans dance-makers, playwrights, experimental performers, burlesque performers, musicians, noise artists, and filmmakers with three weeks of performances at east village venues the kraine theater, under st. marks, arts on site, and the decatur street community garden in bushwick. sliding scale admission. >>
weds 7pm: pandemic diaries: in 2020, the new york public library's pandemic diaries project invited people to submit audio recordings of personal stories about life amid the pandemic. in honor of the collection becoming publicly accessible this year, curator julie golia discusses the project with artist juli kwon, author jeremiah moss, and photographer camilo josé vergara at nypl's stephen a. schwarzman building (midtown). free admission. >>
weds 7:30pm: the slient clowns film series: steamboat bill, jr.: see buster keaton in 1928 silent classic steamboat bill, jr., with live musical accompaniment performed by ben model. hosted by film historians ben model and steve massa, the screening will be followed by a q+a session. cobble hill cinemas, $10 general, $5 seniors >>
weds 7:30pm (weekly): we have fun: a stand-up show: hosts zach sims and dan wilbur bring the fun-ny to young ethel's (park slope), with stand-up by comedians tanael joachim (gotham comedy live), james camacho (cbs), mary martin (calmedy), molly kornfeld, and julia stone. free admission. >>
weds 8pm: big irv's storytelling roadshow: named for its former home at big irv's in williamsburg, the storytelling show continues its residency at philomena's bar (east williamsburg) with a night of short stories told by sean o'brien (moth grandslam winner), steven berkowitz (scientific american), christopher moncayo-torres, and nick padilla. hosted by adam selbst. bonus: free pizza. free admission. >>
weds 8pm (weekly): ambush comedy show – with free beer: josh johnson, lucas connolly, and brittany cardwell serve up slices of standup at two boots pizza (williamsburg), where they'll be joined by mike recine (conan), kc shornima (snl), jake silberman, and jamie bliss. bonus: free beer from 7:30-8pm. free admission (rsvp to enter the pizza raffle). >>
weds 8pm (weekly): savage! a comedy show: lizzie martinez and melissa rocha's stand-up show comes roaring back with sets by alison leiby (the marvelous mrs. maisel), gordon baker-bone (drunk black history), ashley bez (younger), patrick hastie (jacknife comedy), dwayne cullen, and diana hong. bonus: rsvp for a chance to win free drinks. logan's run (park slope), free admission. >>
weds 8pm (weekly): good girl comedy show: good girls laura merli (reductress) and molly brenner (molly brenner: i'm coming) bring their standup show back to friends and lovers (crown heights), with performers adam mamawala (comedy central), esther fallick (heart o' the city comedy), sara bergmark (spicy medley comedy), and matthew scott benjamin. $5. >>
weds 8:30pm (monthly): we're fine comedy show: everything's fine at the we're fine comedy show, featuring standups jared goldstein, sureni weerasekera, jason choi, julia desmond, and michael rowland. crystal lake brooklyn (williamsburg), $10. >>
weds 9:30pm: autoimmune saloon: writer and producer ian goldstein hosts a feel-good show about feeling not-so-good, where comedians with autoimmune diseases will perform stand-up and skits based on their experiences.$10 with promo code 'immune' (reg. $15 adv, $20 door). >>
thursday
thurs thru 4/22: gerhard richter at david zwirner: david zwirner's chelsea gallery hosts an exhibition of works by visual artist gerhard richter, highlighting new and recent abstract paintings, sculpture, and works on paper created between 2016 and 2023. opening reception 3/16 6-8pm. david zwirner gallery (chelsea), free admission. >>
thurs thru sat: the new york whole bead show: bauble-heads, get a bead on the latest in gems, jewels, and more from 30 vendors at the biannual new york whole bead show. iron23 (flatiron), $10-12 admission. >>
thurs + fri: free krispy kreme: in honor of st. patrick's day, you can get a free green o'riginal doughnut when you wear green to participating krispy kreme locations. (scroll to the bottom of the linked page for details) >>
thurs 6pm: the new yorkers: from the first immigrant to arrive at ellis island, to the husband and wife who invented the modern celebrity talk show, new york times reporter sam roberts shares the story of little-known yet pivotal new york residents who helped define the city during a talk for his book, the new yorkers: 31 remarkable people, 400 years, and the untold biography of the world's greatest city, with open house new york board vice president saundra thomas at brooklyn public library central branch. $10. >>
thurs 6pm: olivia harrison: came the lightening: twenty poems for george: marking the twentieth year since george harrison's passing, olivia harrison presents her new book of twenty poems dedicated to their relationship, the phenomenon of losing a partner, and the passage of time. in conversation with author and nyu professor ashley kahn. rizzoli bookstore (flatiron), $5 admission includes a bookstore voucher redeemable toward the purchase of a book, $42.51 ticket includes a signed copy of the book. >>
thurs 7pm: opportunity music project showcase: an evening of music by schubert, mozart, bach, and more performed by faculty and students to benefit opportunity music project, a local nonprofit that provides music education to children from underserved communities. national opera center (chelsea), $20 with promo code 'skint' (reg. $45). >>
thurs 7:30pm (monthly): pete's reading series: hear from literary icons and newcomers alike at this long-running reading series, hosted by vanessa chan and brian gresko. tonight's readers: joseph earl thomas (sink), madelaine lucas (thirst for salt), and john francis quiñonez (keep your little lights alive). books will be available for purchase through greenlight bookstore. pete's candy store (williamsburg), free admission. >>
thurs 7:30pm: I'm Actually From Here with molly ruben-long: park slope native molly ruben-long hosts a night of comedy in the neighborhood she grew up in. featuring ariel elias (kimmel), jay jurden (jon stewart), clare o'kane (windbreaker comedy), and ruby mccollister (zhe zhe). union hall (park slope), $10 adv, $15 day of. >>
thurs 7:30pm: sandeep das and the hum ensemble: delhi to istanbul: grammy award-winning tabla virtuoso sandeep das and his classical indian instrumental hum ensemble come to lincoln center's david rubenstein atrium (uws). free. >>
thurs 8pm (monthly): the dark knight…entirely from memory: blindly-cast ten bones theatre company performers will attempt to recreate the story of christopher nolan's the dark knight using only what they can remember from watching the film once recently. as the chaos ensues, drinks are drunk while the players are challenged to incorporate lines written by the audience and create 'deleted' scenes. littlefield (gowanus), $10. >>
thurs 8pm (every other thursday): landline comedy at wild east brewing co.: get hoppy at the barrel cellar at wild east brewing co. (gowanus), where comedians dave ross (drunk history), kenice mobley (fallon), jamie bliss (the moth), davidson boswell (roastmasters), and julia stone are on tap for a night of laughs. bonus: rsvp for a chance to win a free drink. free admission. >>
thurs 8pm (weekly): laf dance saloon: jeffrey emerson and jill weiner save the best for laughs at the laf dance saloon comedy show, returning with an evening of standup by chris metcalfe (pure chaos comedy), kelly bachman (fx), kenice mobley (fallon), mike szar (sweatin), sammy anzer (comedy works denver), and zach russell (overshadowed podcast). basik (williamsburg), free admission. >>
thurs 9pm: drule comedy: brittany cardwell, claire alexander, and liv amerling present drule, a standup comedy show featuring a mostly women and non-binary lineup at fette sau bbq (williamsburg). tonight: onika mclean (hbo), gastor almonte (comedy central), ej marcus (tiktok), orli matlow (adult swim), and eve ellenbogen. hosted by abe gatling. free admission. >>
thurs 10pm: dirty thursday: britney!: dance 'till the world ends at tonight's britney spears-themed edition of house of yes's dirty thursday dance party. house of yes (bushwick), free before midnight with rsvp, $10-15 otherwise. >>
ongoing
our roundup of 25+ ongoing events and attractions: art exhibitions, ticket deals, and more. >>
stay safe and healthy
– the skint